Pasadena Motorcycle Accident Lawyer
For Experienced Counsel Call
(626) 340-0955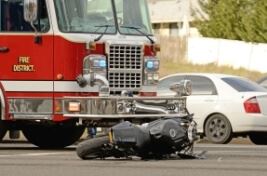 If you or a loved one were involved in a motorcycle accident that was caused by the negligence of another, it is important to act fast to take necessary legal action. At Gille Kaye Law Group, PC, our motorcycle accident attorneys have over 30 years of combined experience providing effective counsel for motorcycle and other accident victims. We recognize how overwhelming it can be to work through personal injury cases, and we ensure every client receives the compassionate supported and individualized attention they deserve.
We have a long track record of securing favorable outcomes for injured victims and, if necessary, we will fight for a client in court. Call now to find out what we can do for you.
Reasons to choose Gille Kaye Law Group, PC:
Creative solutions to help clients obtain compensation
Track record of success backed by 30+ years' combined experience
Direct attention from your passionate attorney
Highly experienced litigators on your side
Typically, motorcycle accidents have much more devastating of an impact than normal car accidents, because a motorcyclist's risk of injury is far greater than the risk of injury for someone who is in a normal passenger vehicle. Drivers are not always as aware of their environments as they should be, and their negligence can have devastating consequences for a motorcyclist. Insurance companies may not want to adequately cover the costs associated with this type of accident. We have plenty of litigation experience, and will never hold back from taking on the insurance companies full-force to make sure this does not happen to our clients.
Seek Maximum Compensation for Your Injuries
In the state of California, all wrongfully injured victims have a limited amount of time to pursue compensation from the liable party. For this reason, it is imperative that you move quickly to discuss your case with a Pasadena personal injury attorney. When you hire us, we will work diligently to ensure that your case is filed within the two-year statute of limitations. In some cases, this time limit may be even shorter, so you do not hesitate to contact our firm as soon as possible.
Get in Touch with Us Today for a Case Evaluation
If you have been involved in a motorcycle accident, it may be in your best interest to discuss your legal options with a Pasadena personal injury lawyer from our firm. Not only do we have more than three decades of experience, but we have been successful in securing a significant amount of compensation for numerous clients in the past. Your well-being is our firm's top priority, so you can trust that your future will be in capable hands when you work with our experienced team.
We will fight to get you fair compensation! Contact us to request your initial consultation.