Pasadena Annulment Lawyers
Understand Your Options for Dissolving a Void or Voidable Marriage
When one "spouse" is tricked into the marriage under false pretenses, when one of the individuals has an unsound mind, or if one of the individuals is already married to someone else, upon proof, the innocent "spouse" will have grounds to obtain a judgment of nullity—often called an annulment.
At Gille Kaye Law Group, PC, our Pasadena annulment attorneys will help you seek an annulment, which essentially declares that the marriage never even existed. We are passionate about helping individuals and their families find resolutions to unjust situations such as fraudulent or bigamous marriages. Contact us to learn more!
Annulment vs. Divorce
The primary difference between an annulment and a divorce is that a divorce ends a marriage, divides property, and assigns support while an annulment treats the marriage as if it had never happened. This can be beneficial to the so-called innocent spouse for many reasons. One of the most common being a marriage voidable after provable fraud, where one side had property going into the voidable marriage, and the other side only married that person to acquire the property. However, different scenarios may lead to annulment.
Grounds for an annulment include:
Spouses married under unsound mind or while intoxicated
Various reasons why a marriage was not consummated
One spouse misrepresented a truth that was vital to the marriage
A spouse was underage at the time of the marriage
Spouses are blood-related, and the marriage is illegal
One of the spouses was forced into the marriage
One spouse is still married to another person, known as bigamy
If only one spouse is seeking an annulment, they must prove to the judge that one of these scenarios was true at the time the couple married. If a judge does not believe that any of these grounds apply, he or she will not annul the marriage, and the spouse must file for divorce.
Understanding the Annulment Process in California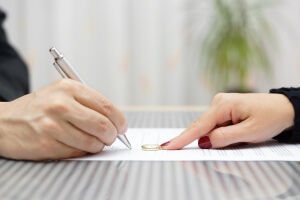 The California court system has specific statutes of limitation on different scenarios for requesting an annulment. For example, if the annulment is sought because you were underage, you must file within four years of turning 18 (the age of consent). Additionally, in cases of bigamy, the annulment must be filed before the first spouse dies.
If you are filing on the grounds of fraud, you must do so within four years of discovery. If you are filing because your spouse was secretly physically incapable of intimacy at the time of marriage, or because you were forced into the marriage, you must do so within four years of getting married. Finally, if the annulment is sought on the grounds of an unsound mind, it may be filed at any time while you and your spouse both live.
Annulments frequently take less time than a divorce as they are generally sought by couples who have only recently married, meaning there are relatively few assets that would typically qualify to be divided as community property and often no children of the union exist. In the case that children and property are involved, we can guide you through resolving each issue.
Pursue an Annulment with the help of Gille Kaye Law Group, PC
If you believe your marriage was a legal mistake, you may be able to seek an annulment. Alternatively, if you have proof of legal marriage, we can help you prove it. Because the grounds for an annulment and statute of limitations on filing can make it challenging to get a judge's approval, you must seek legal help as soon as you realize the situation exists. Our Pasadena annulment lawyers at Gille Kaye Law Group, PC will help you close this chapter of your life.
Schedule your consultation online or by phone to get started!